New Shows added 1-17-14
PLEASE SCROLL DOWN FOR ARCHIVES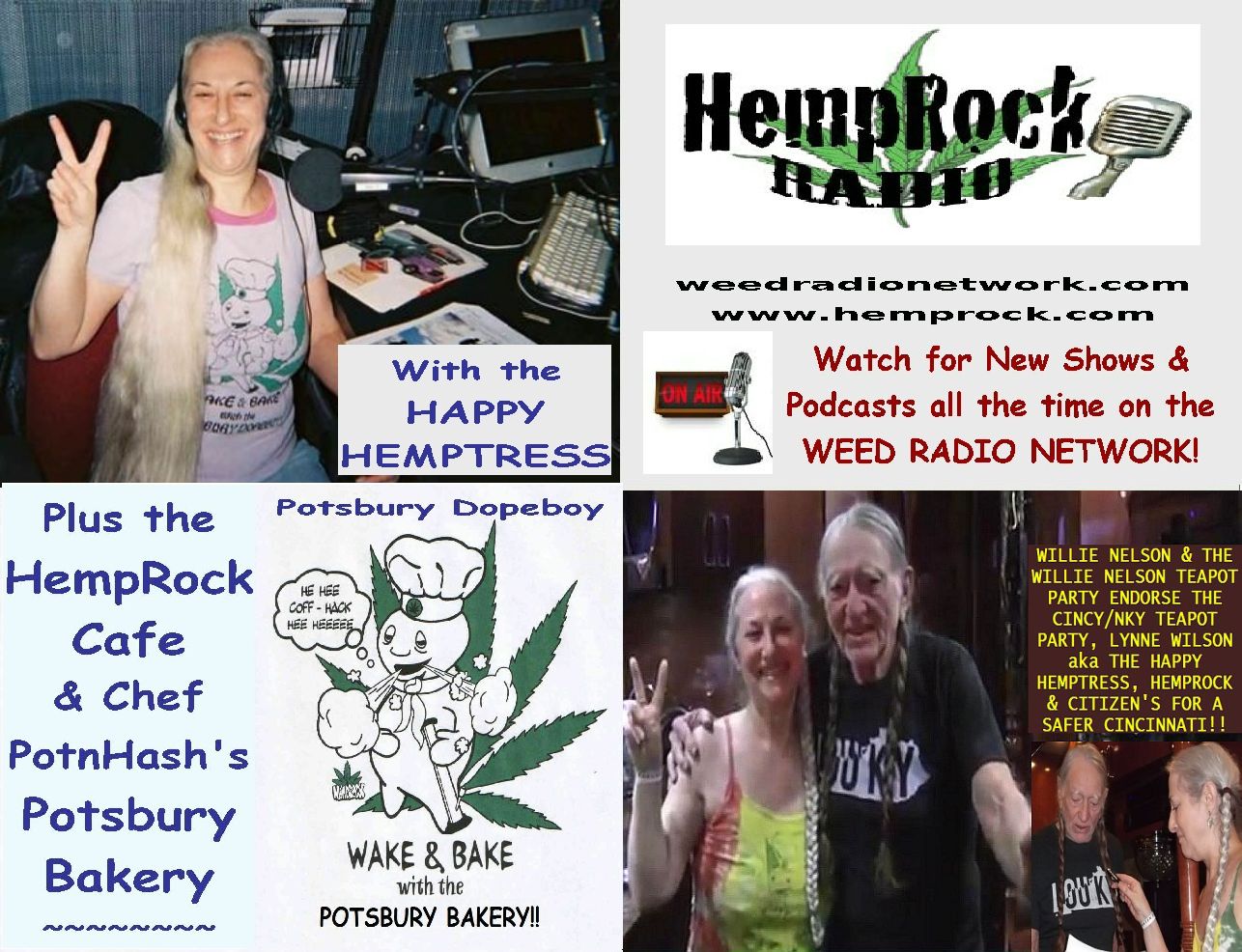 Join HempRock Radio with the Happy Hemptress
featuring the HempRock Café & Potsbury Bakery!
Charles "The Burnman" Byrnes B.I.P.
BURN IN PEACE 1954 - 2012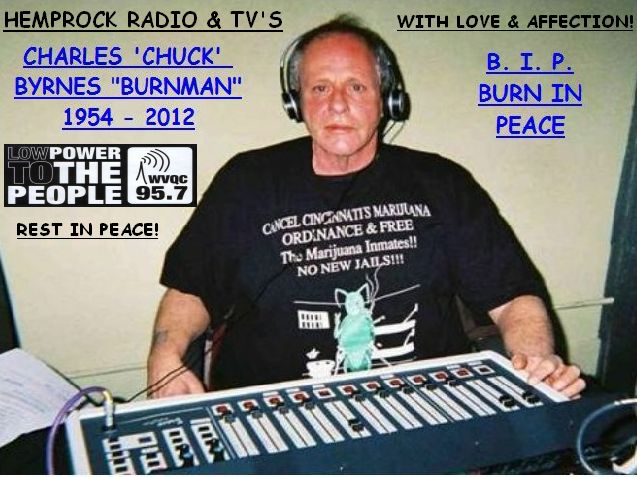 ===================
BUY HEMPROCK T-SHIRTS HERE
===============================================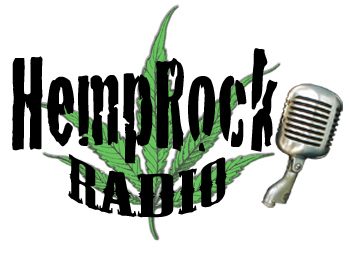 ARCHIVES
(Shows edited for technical difficulties)
Files may be large and take a few minutes to download.
Click Left on Show Date to listen as a stream or Right and
then Left on "Save link as" to download and listen later.

SHOW DATE --- SHOW GUESTS

Jan 17, 2014 --- John Veit, from the Cannabis Career Institute, music from Blackii Whyte & the Reefer Kings.
MARIHUANA TRIP TRAILER BY JOHN VEIT for REVISTA CANAMO
Uploaded Jan 10, 2014 - Recorded a few tears ago.
Jan 10. 2014 --- 'Signs Of Life', Cincinnati's own Pink Floyd tribute band.
Oct 14, 2013 --- Ohio Rights Group Cincinnati Rally - Cheryl Shuman & John Pardee speeches plus both chat with the Hemptress!
Sept 5, 2013 --- Libertarian Jim Berns for Cincinnati Mayor (2013) on the fallacy of the Cincy Mayor Primary Race.
ALL SHOWS ABOVE WERE RECORDED FOR WEED RADIO NETWORK.
ALL SHOWS BELOW WERE RECORDED FOR WVQC-LP 95.7 FM.

April 17, 2013 --- 2013 Encore Presentation of Jack Herer on Shrooms from 2005 + Todd McCormick! Part Two!
April 16, 2013 --- 2013 Encore Presentation of Jack Herer from 2005! Part One!
April 4, 2013 --- Encore with John Sinclair & Chief Greenbud on Hash Bash. See them both at the 2013 Bash April 6th!
Sept 20, 2012 --- Part 2 - Celebrate Constitution Day (Sept 17th) w/ Davy V., Buckeye Beat's Ken Naegele & Chef Herb Seidel
Sept 17, 2012 --- Celebrate Constitution Day (Sept 17th) w/ Davy V., activist exposing police misconduct & corruption &
-- Cop Block.org contributer.
Sept 6, 2012 --- Celebrate Jury Rights Day (Sept 5th) w/ Fully Informed Jury Association (FIJA's) Kirsten Tynan,
-- Larry Arnette from The Bottom Line & Chris Wallis, Obama Video Parody Producer
Aug 2, 2012 --- Alex White Plume chats about National Geographic's Aug 2012 issue about the Lakota Sioux & Pine Ridge & Hemp
July 12, 2012 --- Arlington Heights Update w/ Roland 'Butchie' Heyne III + The King Of Pot Returns
July 9, 2012 --- KY Vets for MMJ's Ron Moore & Gatewood's Act & Wayword Bill's July 4th D.C. Smoke-in Update
July 5, 2012 --- Dan Solana on Michigan's proposed bills that would hurt MMJ patients & Jake Jones & KY Sen. Perry Clark's
-- Gatewood Galbraith Medical Marijuana Memorial Act 2013 news conference
July 2, 2012 --- U.S. Marijuana Party's Wayword Bill Chengelis (Speech) & Charlie Lake & the 43rd July 4th D.C. Smoke-in
June 28, 2012 --- David Bronner with Dr. Bronner's Magic Soaps + KY Sen. Perry Clark & others at Gatewood Galbraith Medical
-- Marijuana Memorial Act Support Cook-out, 6-27-12
June 25, 2012 --- Chris Conrad & Mikki Norris with West Coast Leaf & Shattered Lives
June 21, 2012 --- Rerun Celebrating Jack Herer's 73rd Birthday (Recorded in 2005 before his death) with Todd McCormick!
June 18, 2012 --- George Clayton Johnson (Co-writer of Logan's Run & Oceans 11, writer
-- of 8 Twilight Zones, Star Trek & other stories) Celebrates Jack Herer's 73rd Birthday!
June 14, 2012 --- We Remember Peter McWilliams w/ Julia Rose, Dennis Peron & Harold Bloomfield
June 4, 2012 --- Current news
May 31, 2012 --- Ed Forchion aka New Jersey Weedman Going Back To Cali! + Timothy Leary's Dead again Memorial Day Rerun
May 24, 2012 --- Honoring Burnman with Hemptation's Beach P-2
May 21, 2012 --- Honoring Burnman with Hemptation's Beach P-1
Show times changed
May 15, 2012 --- BURNMAN BIP, Mr Personalities & Country Kenny + Hempy Holidaze w/ Burnman & Susan Mema GOP Rerun
May 14, 2012 --- Happy Hemptress & Susan Mema GOP Return
Apr 23 - May 8 Reruns "Closed for Media Bridges & WVQC move to WCET Crosley Telecommunications Center
Apr 17, 2012 --- Federal MMJ Patient Elvy Musikka's 420 Strike, 420 DC Rally, Cannabis Shepherds + Chef Herb Seidel
Apr 10, 2012 --- Open Mind Prods Dirty Adville & Wendy Oakley's Senor Bull (Prerecorded)
Apr 10, 2012 --- Arlene 'Ganja Granny' Williams & New York's Global Marijuana March
Apr 9, 2012 --- Mikki Norris & Chris Conrad Discuss Oaksterdam University Federal Raid
Apr 3, 2012 --- Drug Truth Network's Dean Becker Discuss Oaksterdam University's Federal Raid
-- and HASH BASH 2012 and JOHN SINCLAIR (www.radiofreeamsterdam.com)
Apr 2, 2012 --- 3-29-2011 Rerun of HASH BASH 2011, JOHN SINCLAIR & ADAM BROOK
Mar 27, 2012 --- Ed Forchion aka New Jersey Weedman WeedMobile Roadamentory
Mar 26, 2012 --- Brit Floyd's animator and videographer, Bryan Kolupski
Mar 20, 2012--- Paul Stanford & OCTA 2012, the Oregon Cannabis Tax Act, gets
-- Endorsed by Willie Nelson. Endorsement Audio Clip
Mar 13, 2012 --- Denver 420 w/ Miguel Lopez and U.S, MJ Party Prez Wayward Bill
-- plus St.Patrick's Day Potluck with Mema Susan and Chef Herb Seidel
Mar 12, 2012 --- HempRock with Mema Susan, KC Taynor and the Cannabis Village
Mar 6, 2012 --- R.I.P. GARY SHEPHERD with family, Jacob and Mary Jane Jones
Mar 5, 2012 --- 2004 Cincy MMM clips, including OSU SSDP, Kay Lee and Hemptations Beach,
-- plus Gatewood Galbraith at San Fran 1991 Hemp Expo with David "Doc" Connelly
Feb 28, 2012 --- The Green Brothers, Aaron Evans
Feb 27, 2012 ---Ed "NJ Weedman" Forchion and his Coast to Coast Tour
Feb 14, 2012 --- Retired Police Officer Howard Wooldridge from COP, Citizens Opposing Prohibition
Feb 13, 2012 --- Damian Darlington, Brit Floyd's guitarist, Brit Floyd U.S. Tour,
-- Plus, Medical Marijuana Week, Call the Prez to tell him to keep his promises and
-- Leave MMJ up to the States! 202-456-1414!
Feb 7, 2012 --- Mstr Sgt Tony Vance and Kentucky Senate Bill 129,
-- The Gatewood Galbraith Memorial Medical Marijuana Act,
Plus Dana Beal before Wisconsin Incarceration
Feb 6, 2012 --- Cher Ford-McCullough presents Gatewood Galbraith's speech from the
-- 2003 Paduca, Kentucky Million Marijuana March
Jan 31, 2012 --- Theresa Daniello and (OMCA) Ohio Medical Cannabis Act 2012
-- Plus, Chef Herb Seidel joins the Cafe & Bakery
Jan 30, 2012 --- Cincinnati Bob Marley Fest and Leah Saho
Jan 24, 2012 --- Gatewood Galbraith's 65th Birthday Show 2 and Kentucky Hemp Press Conference
Jan 23, 2012 --- Gatewood Galbraith's 65th Birthday Show with his Daughter Molly Galbraith,
-- and Cannabis Villagers Susan Mema GOP & KC Taynor
Jan 17, 2012 --- Gatewood Galbraith RIP 1947-2012 First Memorial Show
Jan 10, 2012 --- Gatewood Galbraith RIP 1947-2012 First Memorial Show
Jan 3, 2012 --- Holiday Rerun from 12-28-2010 with Jerry Samuels AKA Napoleon XIV,
-- He Came to Take Us Away Again!
Dec 27, 2011 --- Ed "NJ Weedman" Forchion raided!
Dec 20, 2011 --- Jan Irvin (Taught by & Friend of Jack Herer's) Sacred Mushroom,
-- Santa Clause & the Christmas Myth!
Dec 19, 2011 --- Hempy Holidaze 3 w/ Burnman and Susan Mema GOP
Dec 13, 2011 --- Hempy Holidaze 2
Dec 12, 2011 --- Hempy Holidaze 1
Dec 6, 2011 --- George Clayton Johnson Part 3, Cafe Frankenstein Tribute
Dec 5, 2011 --- Joint Host Colonel Cannabis and Outside the Walls with 1 of the Nebraska 3,
-- Chris "The Anarchist" Ryan
Nov 28, 2011 --- George Clayton Johnson Part 2 (7-18-11 Edited Rerun)
Nov 22, 2011 --- The Cliftones, 1st Place Winner (World/Reggae) Cincinnati Entertainment Awards
-- Hempy Thanxgiving
Nov 15, 2011 --- Gatewood Galbraith after Kentucky Governor's Race! Scott Preston &
-- Cincy Groove Magazine's 4th Anniversary
Nov 14, 2011 --- Veteran Michael Krawitz Rerun
Nov 8, 2011 --- Dea Riley for Kentucky Lt. Governor
Nov 7, 2011 --- NEWS
Nov 1, 2011 --- Gatewood Galbraith for Kentucky Governor!
Oct 25, 2011 --- Dana Beal..On Facebook..More Facebook..Cures Not Wars
Oct 4, 2011 --- Veteran Michael Krawitz & Cannabis Villager Kc Kush Taynor
Oct 3, 2011 --- Cannabis Villager Kc Kush Taynor & Susan Mema GOP + Carl Gamel
Sept 27, 2011 --- Hemptation's Beach & Pink Floyd Week
Sept 26, 2011 --- Cannabis Villager & TeaPoter Susan Mema GOP
Sept 20, 2011 --- Federal Medical Marijuana Patient Elvy Musikka & Correspondent
-- Cannabis Villager Susan Mema GOP
Sept 19, 2011 --- Cannabis Villager & TeaPoter Susan Mema GOP
Sept 13, 2011 --- Ed "NJ Weedman" Forchion
Sept 6, 2011 --- Cannabis Villager Kc Kush Taynor & Susan Mema GOP + Carl Gamel
Aug 30, 2011 --- Gatewood's running mate Dea Riley & Overgrow the Government's Stickman
Aug 23, 2011 --- NJWeedman, Ohms' Elementree Dave & Cannabis Shepherd James 'Osch' Oschwald
Aug 22, 2011 --- Cannabis Villager & TeaPoter Susan Mema GOP
Aug 16, 2011 --- Tonya Davis, Ohio Compassionate Care Act & Medical Cannabis Shepherd
-- James 'Osch' Oschwald chats about Seattle Hempfest 2011
Aug 15, 2011 --- Gatewood & Dea Riley at Fancy Farm 2011
Aug 9, 2011 --- Ohio Medical Cannabis Act (OMCA) Theresa Daniello
Aug 8, 2011 --- Cincinnati's Conscience's Jai All Day
Aug 2, 2011 --- Julia Rose Celebrates Peter McWilliam's B-day & U.S, MJ Party Prez Wayword Bill
Aug 1, 2011 --- Gatewood Galbraith for KY Governor
July 26, 2011 --- Carl Olsen Iowa Medical Marijuana
July 18, 2011 --- George Clayton Johnson Part 2
July 12, 2011 ---
June 20, 2011 --- George Clayton Johnson Part 1 (Co-writer of Logan's Run & Oceans 11, writer
-- of numerous Twilight Zone, Star Trek & other stories) Celebrates Jack Herer's Birthday!
June 14, 2011 --- Ed "NJ Weedman" Forchion
May 31, 2011 --- Timothy Leary's Dead
May 24, 2011 ---
May 23, 2011 ---
May 17, 2011 ---
May 16, 2011 ---
May 3, 2011 ---Tonya Davis, Todd Roy (SSDP), Chef Brandon & The Blind Cafe!
May 2, 2011 --- Wendy Oakley, Zebulan-Vicariously Indecisive
Apr 26, 2011 --- Steve Bloom (CelebStoner.com & National Teapot Party), Stickman w/DC 420 Rally
Apr 25, 2011 --- Aaron from Madras Lounge
Apr 19, 2011 --- CELEBRATING THE SHROOMY LIFE OF JACK HERER PART 2 (Recorded in 2005
-- before his death and not heard anywhere till now!) & 420 With TODD McCORMICK!
Apr 18, 2011 --- CELEBRATING THE HEMPY LIFE OF JACK HERER PART-1 & 420 (Recorded in
-- 2005 before his death and not heard anywhere till now!)
Apr 12, 2011 --- Henry's music
Apr 11, 2011 --- Sock Monkey's Kara Michelle
April 5, 2011 ---
Apr 4, 2011 ---
Mar 29, 2011 --- HASH BASH, JOHN SINCLAIR & ADAM BROOK
Mar 28, 2011 --- Gatewood Galbraith & Willie Nelson donates PSA to our Teapot Party!
Mar 22, 2011 --- Ohio's Tonya Davis & StickMan w/ the DC 420 Rally
Mar 21, 2011 ---
Mar 15, 2011 ---
Mar 14, 2011 ---
Mar 8, 2011 --- Colonel Cannabis - Floyd Anniversary
Mar 7, 2011 --- David Gilmour's 65th
Mar 1, 2011 --- PINK FLOYD EXPERIENCE-JULIA ROSE & PETER MCWILLIAMS-TONYA DAVIS
Feb 28, 2011 --- Pink Promo & News
Feb 22, 2011 --- Open Mind Productions
Feb 21, 2011 --- President's Who Grew Hemp Day
Feb 15, 2011 --- ALL NEWS
Feb 14, 2011 --- Howard Lahtz LEAP Lecture for UC SSDP (1-31-11)
Feb 8, 2011 --- Tommy Chong + Bob Marley's Birthday
Jan 31, 2011 --- THE BURNMAN, MR. PERSONALITIES & COUNTRY KENNY
Jan 25, 2011 --- Cincinnati Councilman Cecil Thomas
Jan 24, 2011 --- Hamilton County, Ohio Commissioner Todd Portune
Jan 18, 2011 --- Steve Bloom (CelebStoner.com & National Teapot Party) and Cincinnati City Council
-- folks Lauri Quinlivan, Wendell Young & Vice-Mayor Roxanne Qualls
-- CINCINNATI REPEALS POT ORDINANCE -LISTEN TO ABOVE 4 SHOWS FOR STORY!

Jan 17, 2011 --- MLK Holiday Repeat...Jerry Samuels AKA Napoleon XIV (1 hr edit)
Jan 10, 2011 --- Gatewood Galbraith and Willie Nelson & his TeaPot Party's campaign endorsement!
Jan 4, 2011 --- Ohio's Tonya Davis Live & Dayton Rally Speech
Dec 28, 2010 --- Jerry Samuels AKA Napoleon XIV, He Came to Take Us Away, Ha Haaa, with Him,
-- on His Journey to the Funny Farm!
Dec 27, 2010 --- Aurora, Colorado Cops harrass Doc for legally prescribing MedPot while 1 of
-- their own DARE cops gets busted for being into Child Pornography
Dec 21, 2010 --- Hempy Christmas 2
Dec 20, 2010 --- Hempy Christmas
Dec 7, 2010 ---
Nov 30, 2010 --- Gatewood Galbraith 4 KY GOV 2011
Nov 1, 2010 --- Mikki Norris & Chris Conrad + Cali Prop 19
Feb 1, 2010 ---
Jan 26, 2010 --- Pink Floyd's Nick Mason's Birthday & local band Eclipse
Jan 25, 2010 --- RE-Legalize Indiana
Jan 19, 2010 --- Dr. Roland Heyne Sr., Addiction Specialist Part 2
Jan 18, 2010 --- Airing of recording of California Committee vote on Tom Ammianno's Marijuana Bill 2010
Jan 12, 2010 --- Dr. Roland Heyne Sr., Addiction Specialist Part 1
Jan 11, 2010 ---
Jan 5, 2010 --- Pink Floyd's Syd Barrett's Birthday
Jan 4, 2010 ---
Dec 29, 2009 ---
Dec 28, 2009 ---
Dec 22, 2009 ---
Dec 21, 2009 ---
Dec 14, 2009 ---
Dec 8, 2009 ---
Dec 7, 2009 ---